The Canoe Bay Sailing Club was formed in 1969 with the idea that yacht racing could be inexpensive, uncomplicated and available to everyone.
We believe in the K.I.S.S Principal - Lots of racing - $20/yr.
In Memory of Gordie Inglis
Gordie, one of the founders of the Canoe Bay Sailing Club, was a gruff old sailor with a heart of gold. Every racer I know has, at one time or another, watched the stern of Gordy's boat as he crossed the finish line.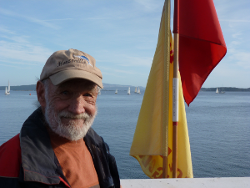 How To Join
Contact us through: Visit us on



Dave Campbell: 250-656-9768
Kim Hutlet: 250-508-6860
Or email us at kimhutlet@gmail.com

Races, Regattas and Results
Results for the Russell Island Race are posted . Another beautiful day on the water with wind and no wind and fog and sun. A well done to Gary and Jan on Ghost Dancer. and thanks to Colin, Marsha for doing RC.
There's a few pics on the CBSC Facebook page
Course Descriptions
CBSC Course Descriptions
SNSYC Course Descriptions
Spring Racing
Monday January 1 at 11am - Rum Race
Sunday January 14 at 10am - Russell Is.
Sunday February 18 at 10am - Mandarte Is.
Sunday March 18 at 10am - Sidney Is.
April 14/15 Patos Island (SNSYC)
Sunday April 22 at 10am = Zero Rock
Saturday May 12 at 10am RTB
Saturday/Sunday June 2/3 - Cow Bay

10 minute Start Sequence for CBSC Races
10 minutes white flag up - one horn
6 minutes - white flag down
5 minutes blue flag up - one horn
1 minute blue flag down
Start red flag up - one horn